Spa at Buttermilk Falls Inn
This project for a full service spa is located on the grounds of the Buttermilk Falls Inn along the Hudson River in Milton, NY.
The sitting and planning approach locates the spa building to function as a marker and orientation point on the grounds of the Inn.
The design is a modern interpretation of mid-century upstate New York hotel architecture. A kind of "Catskills Modernism". Transparency, lightness and hospitality were the goals.
Entry with Pool Beyond
Entrance Patio
Reception Area
The reception area is defined by a low ceiling penetrated by a fourteen foot diameter conical oculus admitting a diffuse light to the room.
This quiet space leads to the treatment rooms behind the curving stone wall and separately to the swimming pool revealed through the frosted glass wall.
Each wing is designed to offer the optimum environment for each function. The individual treatment rooms are accessed from a low lighted hallway with sloping walls. Each private treatment room is illuminated with a clerestory window expressed on the facade.
View of Swimming Pool wing from the Lawn
The zinc clad oculus becomes the iconic marker for the Spa on the Inn site and unifies the three main wings of the building; Reception, Treatment Rooms and Swimming Pool.
The outdoor sun decks afford views of the Hudson River across a large expanse of lawn planted with fruit trees.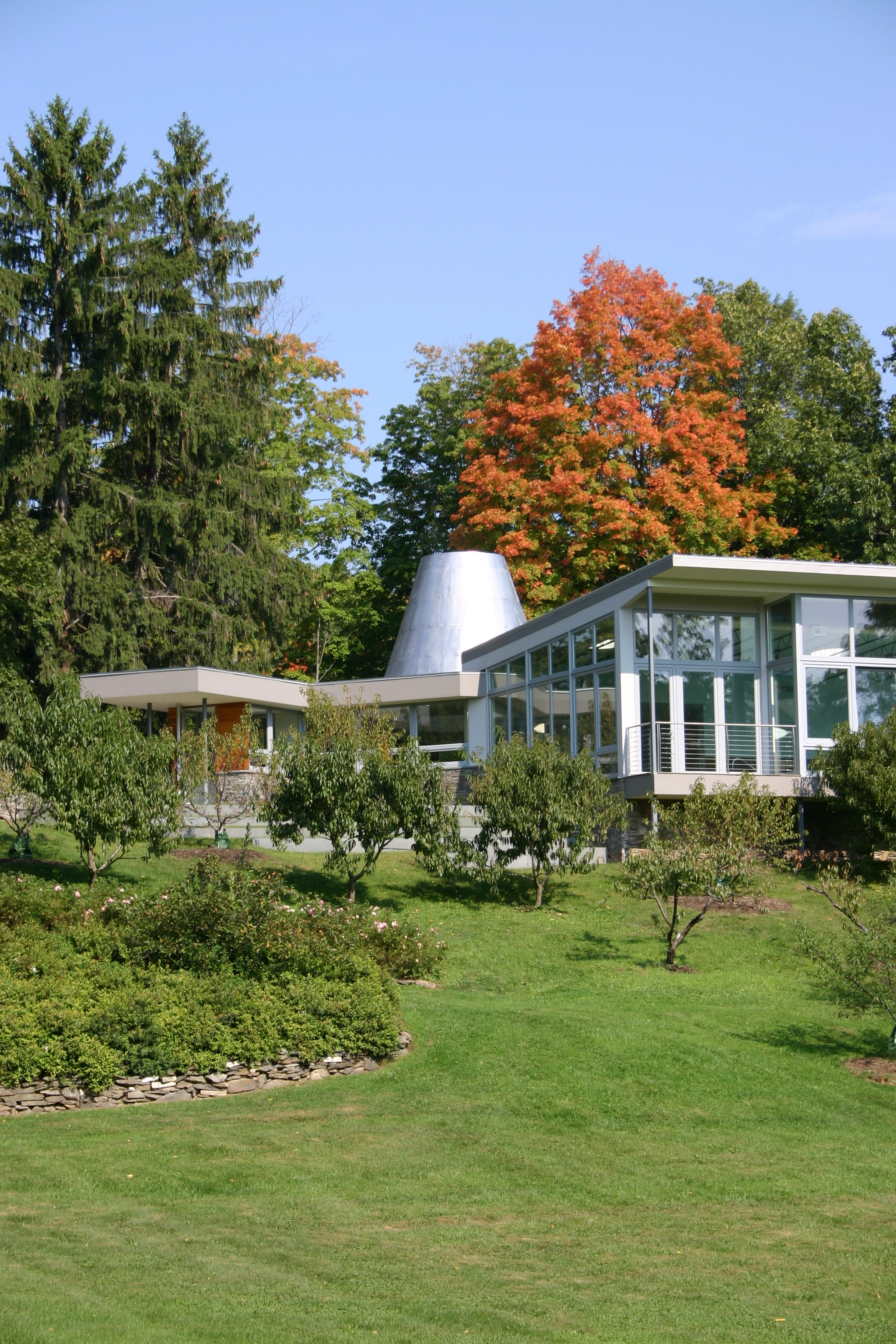 Oculus as Site Marker
Swimming Pool
Each wing is designed to offer the optimum environment for each function.
The pool area is designed as a column free open space with a sauna and steam room at the end. The space is defined by a continuous wall of windows and outdoor sun decks oriented towards the river view.
Steam & Suana
The volume containing the steam and sauna rooms is clad in cedar and defines the swimming pool space.
Swimming Pool
The pool area is illuminated primarily by natural light including round skylights. Floors are bluestone throughout.
Construction
The building geometry responds both to the local circulation patterns and the environmental influences on the site. Sustainable design principles and systems have been employed including a geothermal well field for heating and cooling with aheat recovery system. The southeast facing double glazed operable window wall for the pool area is shaded with an overhang to minimize summer heat gain.
Oculus Construction
Oculus Construction
The framing of the oculus is highlighted by the sun's path.